Video thanks to Andy Bitter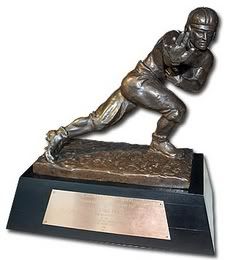 6:00 Central/4:00 Pacific - The Heisman Trophy Award Show.
I know it's still early, quite a long way until the show tonight, but still, come join in the festivities, and let's enjoy the coronation of the next college football king. We will move this to the front page later in the day, to make it easier for all who wish to visit.
StiffArmTrophy.com has Cam Newton with 86% first place votes. A third best in history, vote margin.
While we are at it, list what you think will be the placement order of nominees.

Mine are as follows
4. Kellen Moore -Boise State
3. Andrew Luck - Stanford University
2. LaMichael James - University of Oregon
Winner. Cameron Newton - Auburn University