We at TET are proud to announce teaming of Track Em Tigers with wareagledvd.com to bring you an exciting offer.
You get every single game Auburn played in the 2010 regular season, in it's original version, for one low price. We have secured a special rate for you our loyal followers, by using the promo code "KB777" you can receive free shipping. That's right, no shipping cost on the officially licensed product.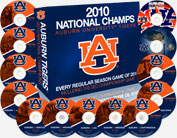 visit wareagledvd.com to get your copy of Auburn's National Championship run
That's not all you can get. You can add the SEC Championship game, and/or the BCS National Championship game along with this complete boxed set
Don't forget, by using the promo code "KB777" and you will pay absolutely no shipping charges.
Get yours today!
WAR EAGLE!