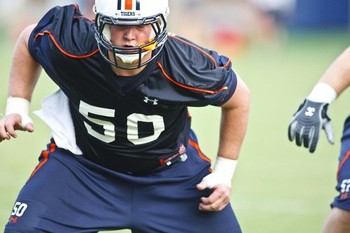 Back in summer camp Auburn freshman Reese Dismukes was in a battle for the starting center position on the offensive line. He won that role and has started every game since. Now Dismukes has won Freshman All-American and Freshman-All SEC.
On Thursday he was named to the All-American Team by CBS Sports and was selected for the Freshman All-SEC Team as well.
Reese became the first Auburn true freshman to start at center in four years. He was the center piece of the Tigers offensive line this season, helping the Tigers rush for 2,097 yards which was the fourth best in the SEC. Auburn averaged more than 200 yards rushing in six games this season, including 291 yards against Arkansas.
Dismukes was an important reason that Mike Dyer was able to be a first-team All-SEC selection helping Michael finish the season as the second leading rusher in the SEC with 1,242 yards.
Congratulations Reese! We look forward to you making All-American and All-SEC again next year!