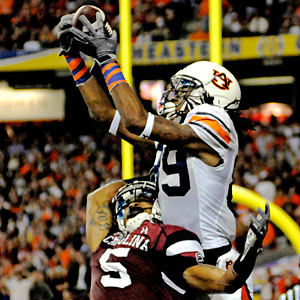 Darvin Adams catches a pass in 2010 SEC Championship game. 
With the NFL Lockout over, players can sign free agent contracts beginning today. News reports late Monday night have several players from the Defending National Champion Auburn Tigers signing free agent deals .
The biggest scuttlebutt to make the rounds is that Auburn's top Wide Receiver the last two years, Darvin Adams may be joining Cam Newton with the Carolina Panthers. In addition, Center Ryan Pugh is rumored to also be headed to Carolina.
Of course, free agents have to be able to make the 53 man team roster and the learning curve has been decidedly shortened by the NFL labor dispute. But Carolina struggled last year in the passing game; so Darvin joining his former quarterback could provide him with the  best possible scenario to make a team this season.
If true, that would give the new players at Carolina an orange and blue hue since offensive tackle Lee Ziemba and Newton already are with the team.
Other Tigers to watch over the next few days are: Mario Fannin, Demond Washington, Byron Isom, Kodi Burns, Wes Byrum, Josh Bynes, Mike Blanc, Craig Stevens, Zac Etheridge, and Terrell Zachery a.k.a T-Zach.
This is certainly good news for Darvin, for Cam, for the Panthers, and for Auburn fans. The only thing better would be if T-Zach could be Cam's other receiver in 2011.